Ballard Annex Oyster House
New seafood restaurant in Ballard makes a splash with its nautical design
By Seattle Mag July 16, 2013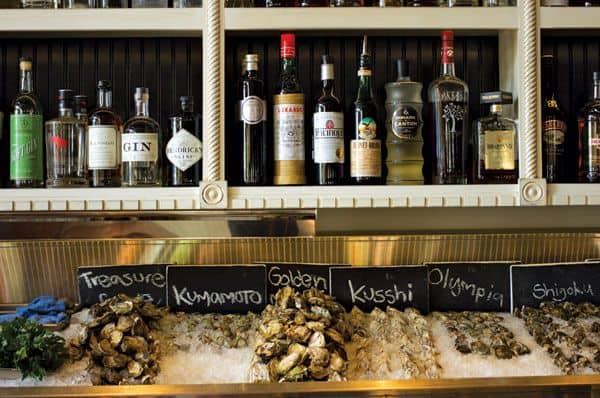 It's funny how it works. Some restaurants can serve inspired, memorable food, but be stuck in a bummer location, doomed to failure. Others can serve food that's fine, overpriced but all right, yet be so blessed by the location gods (and have such a likable design) that they survive in spite of their shortcomings. Ballard Annex Oyster House falls into the latter category. Opened by Zak Melang and Nathan Opper, the duo behind the numerous Matador restaurants (as well as popular barbecue-themed Kickin' Boot Whiskey Kitchen down the street), the choice Ballard Avenue locale (which used to house Thaiku) is handsomely paneled in wood, with long, thick ropes, lots of white subway tiles, and swell, two-person booths as snug as a sailboat's galley. Yep, it's nautical.
And like the ownership's other venues, the look and feel of the place is the main attraction. Sure, folks come here to eat—the menu lists dozens of East Coast and West Coast seafoods—but not necessarily for the food. So what if the $20 lobster roll can't compare to the ones in Maine, where leaving a full third of the roll lobster-less could get you arrested? Better: halibut fish and chips ($16), crisp, juicy and well-seasoned (sadly, the mountain of fries alongside both dishes were salty beyond belief). Go for oysters on the half shell; they're sweet, pure, expertly shucked beauties ($2–$3 per oyster). Or opt for the oysters intended for people who don't like oysters, such as oysters Santa Fe ($10 for three), essentially nachos—melted cheese, salsa crudo—with oysters subbed for the chips. They're tasty, even if they don't taste like oysters. But heck, nobody else seems to care. Lunch Fri.–Sun., dinner nightly. 5410 Ballard Ave. NW; 206.783.5410; ballardannex.com
Sign up and get Seattle's best events delivered to your inbox every week.