Ballard's Brimmer Heeltap Serves Up New American Food with a Twist
By Seattle Mag June 3, 2014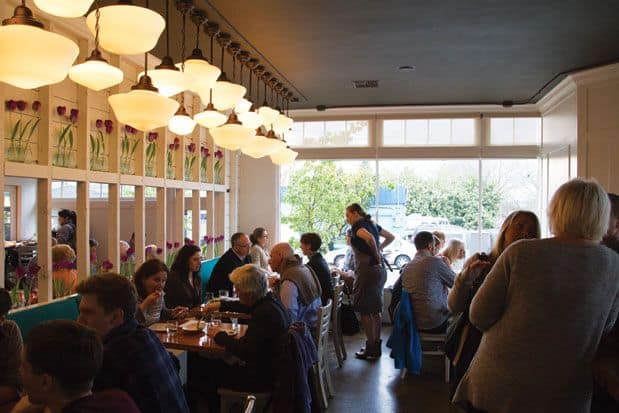 Brimmer Heeltap refers first to a brimming glass and second, to the last dreg you can never seem to retrieve from the bottom. It's a name proprietress Jen Doak (former manager of The Tasting Room) had in her back pocket for years before she opened her Ballard bistro pub in the former Le Gourmand space in January, successfully pulling off what she envisioned for so long: a neighborhood spot where folks could stop in for a nightcap, some good food and community. The darling teal and white, homey-chic decor of the cozy space does not at all hint at the New American menu created by co-owner and former Joule and Revel chef Mike Whisenhunt, who picked ingredients and flavors that he really liked. While the partners agree that the menu (which offers half- and full-size portions, and is subject to change at any time) freaks some people out, it's more playful than adventurous.
Take, for instance, the buns. Served two per order ($2), they are stuffed with fillings such as kabocha squash, dates and chiles, and topped with a walnut seaweed crumble and sherry-caramel glaze. It's a combo that is too sweet for some, but others, including myself, find it to be a pleasingly vegetarian treat. The familiar, brightly flavored steak tartare with daikon, sesame vinaigrette and giant nori crackers ($10) is definitely worth ordering, but save room for the more interesting items; the tender pork shoulder with kimchi ($9/$17) is reminiscent of Korean street food and a stellar contrast of hot and cold, sweet and sour, and the baby red beets roasted, coated in rice flour and lightly pan-fried are beautifully presented on a bed of fennel puree and spicy orange vinaigrette ($6). Starting at 10 p.m., a separate menu helps fill that late-night void that so many restaurants battle, featuring the hugely popular "family meal," which reflects whatever the staff ate for their shared meal that day. It's just one of the many features that make Brimmer Heeltap so palpably convivial.
425 NW Market St.; 206.420.2534; brimmerandheeltap.com
Sign up and get Seattle's best events delivered to your inbox every week.