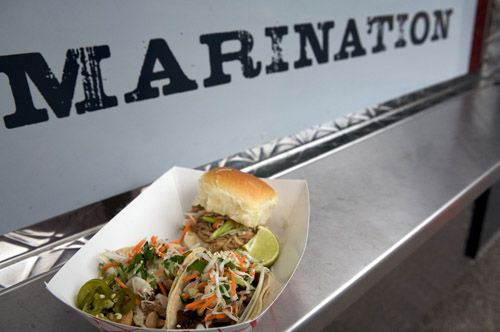 Two Local Film Fests, Marination Station, Regina Chang's New Vintage Furniture Shop and More Top To-do's
Must WatchFilm Fests!This year, the National Film Festival for Talented Youth (4/28 – 5/2) will showcase 200 films (culled from a record-breaking 700 submissions) from 20 countries, all directed by auteurs 22 and younger. The lineup includes work by more than 30 local filmmakers, including 14-year-old Ben Kadie, a film fanatic from Bellevue who has…
Seattle Food Trucks Go Brick and Mortar
Marination Mobile and Skillet open stationary restaurants in Capitol Hill.
If you plot its weekly stops on a map, you'll notice that Marination Mobile's food truck bypasses Capitol Hill entirely, a detour owners Kamala Saxton and Roz Edison say is no accident. Brick-and-mortar restaurants proliferate like crazy on Capitol Hill, thanks to population density and a high concentration of food enthusiasts on a budget. But…
Sign up and get Seattle's best events delivered to your inbox every week.