New Nautically-Themed Bar Anchors Down
Ballard's newest watering hole offers a calm port in the storm
By Seattle Mag August 22, 2013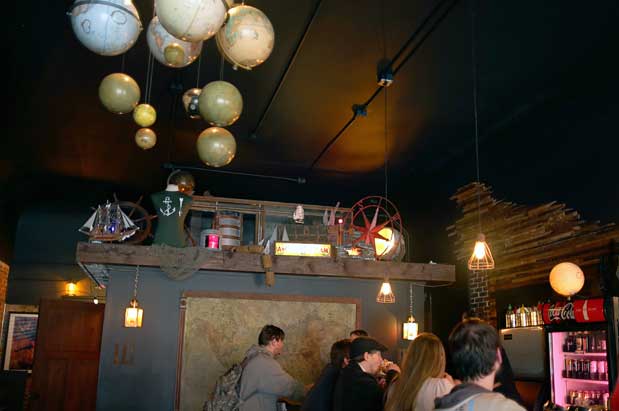 From the portholes in the front door to the fishing nets and floats, it's obvious Anchors Down (Ballard, 2016 NW Market St.; 206.789.1396; Facebook: "Anchors Down") is dedicated to its theme. It never feels forced, however; instead, the world maps on the wall, the compass rose and the other sailing motifs seem comfortable—old sailors should be here. The highlight is a lovely mobile hanging from the ceiling's center, with antique globes of various sizes suspended from a ship's wheel. The cocktail list aligns nicely with the sparse shipboard décor, with only a few selections highlighted, though there's a showing of bottles behind the bar. The menu's top choice, as you might expect, is the Sailor mule, with Sailor Jerry rum, the exquisite Rachel's Ginger Beer and candied ginger ($9.50). Be sure to inquire about the featured cocktail of the day as well. The Gypsy was a recent sparkling summertime example, with rum, vodka, pink lemonade, 7Up and fresh lemon ($9.50). And, providing a good story, it was named after co-owner Amy Graeff's grandmother.
The bar, which was previously vacant—although it did house a mortuary in the past—is co-owned by Graeff (manager of Grim's) and Cristo Williams (manager of Auto Battery) with Po Dog's owner Laura Olson as a silent partner. Because of the latter, it's no surprise to see a selection of Po Dog favorites on the Anchors Down menu, or the shining, oblong pass-through window placed in the door between the two side-by-side businesses. Order a Morning Glory Dog (scrambled eggs, pepper bacon, melted Tillamook cheddar and your choice of hot dog, $6.50) or one of the other inventively yummy selections, and before long you'll hear the bright chime of a ship's bell announcing that your order is about to be passed through the window. While the dogs (and buns, especially) are fairly gigantic, the bar isn't—there's only one large captain's table near the window, an array of small two-top tables and booths, and the barstools along the L-shaped bar (which is also topped by a map). Anchors Down is more cozy cutter than bilious battleship.
Sign up and get Seattle's best events delivered to your inbox every week.