Pike Place Fish Guys Have a Cookbook
By Seattle Mag March 6, 2013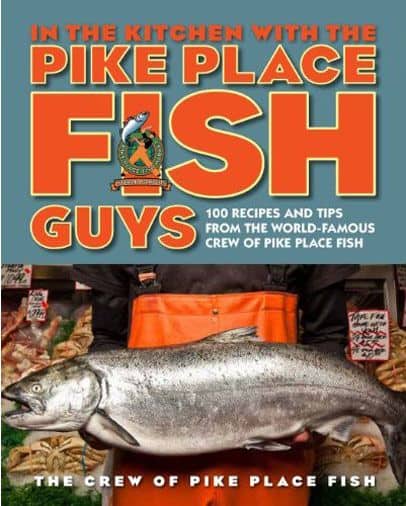 High fives guys!!
In the Kitchen with the Pike Place Fish Guys debuts Thursday, March 7, and those fish-throwing fishmongers are planning a big splash, offering sample recipes, bites from the book and plenty of access for autographs from noon until 3 p.m. at the city's famous fish-throwing seafood shop. You know the place. Right by Rachel the Pig. Or, just look for the crowds with their camera phones pointed toward the fish-tossing action.
The cookbook, which is cram-packed with tasty tips and inspiring recipes and profiles of those GUYS, has been a long time in the making.
Dan Bugge – who now owns Matt's in the Market – first proposed it eons ago, when he still worked there. Later, Anders Miller and Bryan Jarr and others pushed the project forward, and finished it in style with the help of prolific author Leslie Miller (best known for working with Ethan Stowell's New Italian Kitchen). Morgan Keuler's fun photos give readers a real behind-the-scenes feel. Winning! For us Northwest seafood fans, especially.
At a preview party on Sunday, Matt's in the Market's dazzled attendees with dishes from the book, including a smoked salmon rilette contributed by Marche's Daisley Gordon.
It was a version of Yori's Grandma's Cod Cakes (shown above; see page 150 if you get the cookbook) that blew me away. Inside the crispy interior, the tender white fish was so meltingly tender and succulent, I thought it must be a crab cake. But, no, it was even better.
The West Coast book tour will kick off in the Market Thursday, but will then continue on Friday at Elliott Bay Books and then later in the month, there'll be an appearance at Book Larder in Fremont. You can follow along on the official Pike Place Fish Guys social media shoutouts. Yes, they are on Facebook and Twitter and have their very own website. Super cool, Guys! Hope you sell a million copies!!
Sign up and get Seattle's best events delivered to your inbox every week.