Seattle Meat Collective Delivers a Whole Hog Experience
Local classes teach nose to tail butchery, bacon making and more
By Sara Jones December 29, 2014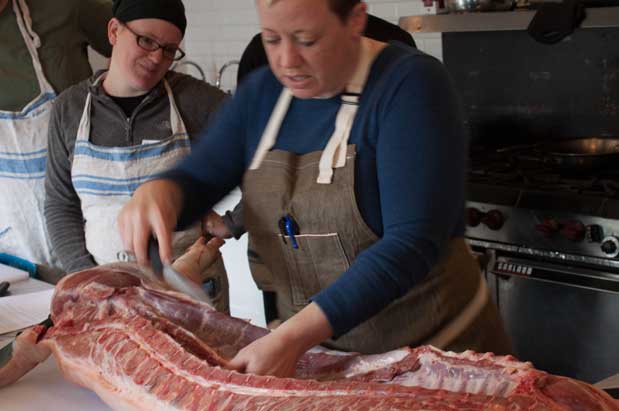 Several summers ago, I spent Friday mornings on Vashon Island's Plum Forest Farm harvesting produce. In return for my labor, I received my week's worth of fruits and vegetables from the farm gratis, and bonus: got to learn how everything grew. I was already a farmer's market loyal, but cooking with foods I gathered myself made meals more meaningful and delicious.
In locavore-filled Seattle, connecting with our cuisine is nearly an expectation, and there are myriad opportunities. Community supported agriculture (CSA)—paying a farm at the beginning of the season for a weekly boxed share of their harvest—has exploded locally in the last decade and expanded some places to offer eggs, bread, flowers and more. The only part of dinner not linked to a sustainable source has often been the meat—until now.
Enter the Seattle Meat Collective: An outlet for not only obtaining responsibly raised local meat, but for gaining meat education in a non-intimidating environment.
Established in 2013 by chef-instructor and French-trained butcher Sarah Wong and chef Brandi Henderson, the Seattle Meat Collective offers nose to tail butchery and charcuterie classes that teach participants how to utilize whole animals to tasty results. "Who likes bacon?" Wong likes to say at the beginning of Meat Collective classes. "How would you like to learn to make your own bacon?"
"One way people have gotten disconnected from their meat is that what they get it in the store is already shrink-wrapped," Wong says. "People want to know [more about their meat] but don't know the first thing about breaking it down."
To this end, the Collective offers a variety of day- to three-day-long classes involving butchery and sometimes charcuterie at The Pantry ($75 to $425).
In a two-day beef butchery class, for example, students learn how to butcher a sustainably-raised cow, then take home their share of the meat (30-35 pounds) with recipes for various cuts ($425). In a day-long rabbit butchery and charcuterie class, Wong teaches students first how to butcher a rabbit nose to tail, then how to prepare the whole animal—including curing and preserving techniques—to make food. A rabbit-filled dinner naturally completes the day, featuring saucisse de toulouse, pâté grandmère and black pepper rabbit rillettes with a rhubarb mostarda ($100).
For ample hands-on exposure, each Meat Collective class is capped at 10 students. Knives and aprons are provided and experience is unnecessary unless specified. So far, a wide range of students have enrolled: microboiologists, computer programmers, massage therapists and more. Wong notes there has been a particularly large contingent in their 30s and 40s whose parents and grandparents had access to fresh farm-raised food, but they never did, and are craving that connection now.
"We've also had a lot of hunters and a lot of chefs because they want the whole gambit," Wong says. "They want to remember what it's like to butcher something and be able to walk away with recipes for bacon, sausage and more." 
One of six similar groups in the U.S., Seattle Meat Collective currently has Wong as its main instructor, though she expects to add new guest teachers within the next year. Classes are offered at The Pantry every few months currently; in the new year, the February beef butchery class and the March rabbit butchery and charcuterie course are already sold out, but a pig butchery class and a goat butchery and barbacoa class are planned for the late spring. Watch The Pantry schedule here to sign up.
"People have become very aware of how their food makes them feel physically and philosophically," Wong says. The Seattle Meat Collective is not just a butchery school; it's "a platform for being responsible for how meat will be utilized. It's something we [the world] were doing for a long time, then Big Business took it out of our hands."
Sign up and get Seattle's best events delivered to your inbox every week.