West Seattle: Best Neighborhoods in Seattle 2013
Where fried chicken, French pastries and pho live together in perfect harmony.
By Seattle Mag April 3, 2013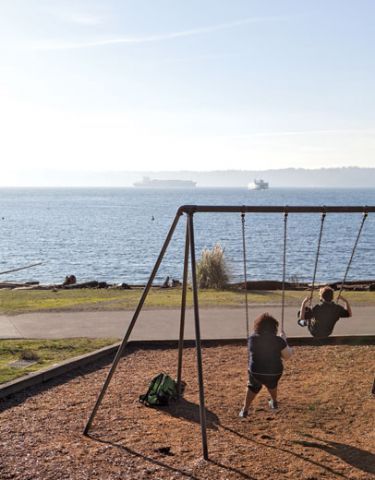 When my husband and I were house hunting, West Seattle was so far down our list, it was barely clinging to the page. Sold on its enticing affordability, once we bought here, we discovered (much like our predecessors John Low and Lee Terry) that West Seattle is actually super-cool. From the beach culture at Alki and tide pools of Lincoln Park to "city" living at The Junction (SW Alaska Street and California Avenue SW) and its proximity to the multicultural up-and-comer White Center, West Seattle is diverse and full of opportunity.
Micro 'hood to watch: Arbor Heights. While it's not a destination, my neighborhood, Arbor Heights, full of modest homes built for Boeing workers in the 1940s, is on the rise. Sadly, it ranks 98th of 100 Seattle neighborhoods on Walkscore.com, which means we have to drive to get a latte, a cupcake and a library book, but we love it because the backyards are huge, the views are expansive, and the kids can walk safely to the school right down the street.
Don't miss: Primo shopping at The Junction, including a growing assortment of consignment boutiques; the fried chicken at Ma'ono; anything from Bakery Nouveau; and a delicious, kid-friendly breakfast at Salvadorean Bakery and Restaurant (technically in White Center).
Go-to for out-of-town guests: Lincoln Park for the view.
Famous for: Current resident Eddie Vedder and former residents Frances Farmer and Ivar Haglund.
Ali Brownrigg is the Seattle mag style editor and has been a West Seattle resident since 2005
Sign up and get Seattle's best events delivered to your inbox every week.