New Green Lake Restaurant Eight Row Delivers on Creative Food and Drinks
Opening only a few weeks ago, the new spot offers intriguing cocktails and nibbles
By AJ Rathbun September 19, 2019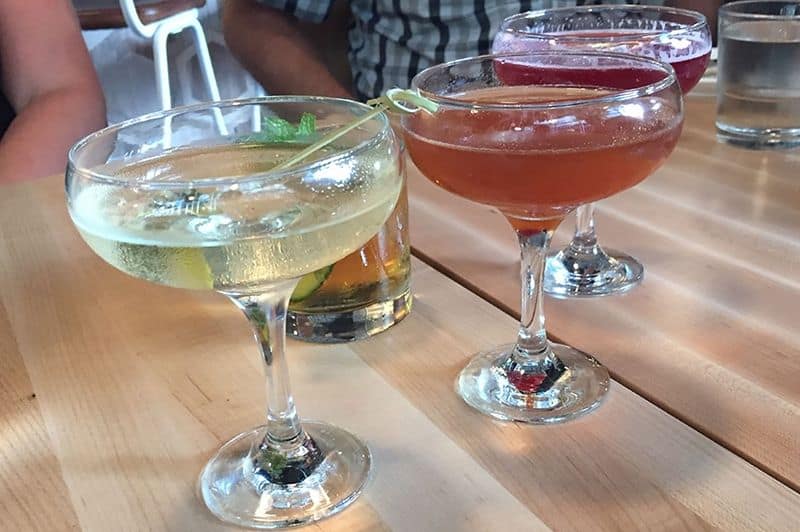 While I've had cocktails with a ridiculously wide range of ingredients here in Seattle, I don't recall ever having one with a pickled ramp—a delicious type of spring onion. Until a recent visit to Green Lake's new restaurant Eight Row, where I started my meal with a perfectly-balanced Pickled Ramp Gibson, the ramp adding a vegetal echo to the Ford's gin and Cap Corse Blanc (a citrus, floral, aperitif). This imaginative use of unique ingredients resonates throughout the food and drink menus, making Eight Row a place you won't want to miss.
Launching only a few weeks ago, the restaurant is a lovely space, open and airy thanks to tall ceilings, white walls, west-facing windows and light wood furnishings. There's a larger dining area, outdoor seating, and a "lounge" area near the bar—the latter set off by a living wall of sorts, made of white boxes containing plants. Lots of plants appear in the space, along with a few highlight accents, and perhaps my favorite restaurant accoutrement seen this year—tap handles made from pruning shears that chef David Nichols got at his parent's central Washington cherry orchard.
The restaurant name is a shout to the cherry orchard, too—Eight Row is a measurement referring to the biggest cherries. Nichols sources produce from central Washington, and you should expect the menu to reflect the growing seasons in the region. When I was last in with my wife and a few pals, there were just over twenty food options, smaller starters flowing into larger dishes. In the former camp was a definite highlight: fried eggplant with turnips, a cumin crème, and a sprinkling of honey spiked with chili de arbor. We almost ordered a second batch.
Small touches here make the meals stand out. On the duck breast (another hit) for example, the duck itself was cooked amazingly, but the duck confit fried rice and caramelized fig and fennel chimichurri took it to the next level. In the same way, a surprising choice of preserved orange and peanuts made the large whole trout really swim in a singular manner, while corn cob broth mingling around a tomato confit and corn cavatelli (a house-made small pasta) painted a veggie bit of artistry.
That corn cob broth starred in a drink, too, the North Star Spritz (from the Happy Hour spritz menu), delivering a moment of the garden alongside Luxardo's light Aperol-esque aperitivo, molasses and rice-based spirit Batavia Arrack, and Spanish sparkler Cava. The bar and kitchen have a welcome symbiosis, with many drink ingredients utilizing culinary aspects. One was a favorite drink of friendly lead bartender Jessica Manzi (who worked in kitchens before shaking at places like Rhumba) called Trees Have Standing. Combining Noble Oak bourbon, lemon, herbally Amaro Lucano, and a house-made berry syrup, it was like a rich fruity bourbon pie! The wine list is also well put together by Nichols' brother, making this dining and drinking experience a family affair.
The wine list is well put together, by Nichols' brother, underscoring the family atmosphere. But while the ambience is nice, it's the food and drink that should have you making a reservation, as it really ups the ante for Green Lake. Not that the neighborhood doesn't have jolly spots! But for those looking for a finer—though still fun—dining experience, Eight Row supplies something new.
Sign up and get Seattle's best events delivered to your inbox every week.