BY:

Joanna Simmons, Houzz contributor

|

Updated: January 25, 2017

Image Credit:

Gaile Guevara, original photo on Houzz

This article orginially appeard on Houzz.com

If your outdoor space is tiny, tricky or totally nonexistent, you can still find a way to grow a little garden. Forget big shrubs or sculptural trees and think instead about window boxes, clever climbing vines and lush indoor jungles. Sometimes simply getting hold of the right planters is enough to unlock the potential for a corner of greenery, while other solutions are more ingenious. Here's a handful of ripe ideas to try.
Rethink the hanging basket. Much favored by urban gardeners for dangling off lampposts, hanging baskets exist in other, cooler guises too. Great for exploiting unused wall space in a small balcony area, a hanging basket can be any shape or size, provided it's securely supported.
Try an industrial, trough-like design, something like this one, rather than the traditional round wire version.
You could even construct your own hanging containers using upcycled cans for a beautiful and economical look.
Go big with window boxes. Treat window boxes as a mini garden, filling them with annuals, perennials and herbs for maximum variety and interest all year round.
Choose specimens that are reasonably tall so you can see and enjoy them from indoors. Plants such as Verbena bonariensis grow on tall, strong stems that won't block the light but will bring welcome height to a window box.
For something big on impact but, perhaps, lower maintenance, try planting a row of grasses in a window box. Again, you'll be able to appreciate these from inside, and they create a pleasing green screen that softens an urban view.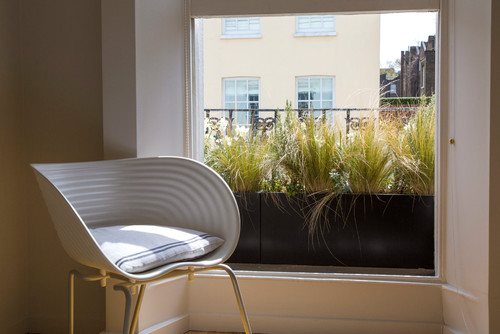 Decorate outside as you would in. Instead of trying to grow a garden in a tricky, dark courtyard like this, why not brighten it up with geometric tiles and attractive furniture? Treat the low area outside a basement window as an extension of inside so that it's pleasant to use and great to look at from within.
Related: Finding the Just-Right Sized Patio Furniture
Exploit a corner. Build planters into a corner to create a green focal point. Trailing plants help obscure the horizontal lines of the planters and, paired with smaller specimens, give a lush, abundant feel to this relaxed seating corner.
Here, the homeowners have adapted pallets to make them watertight, then painted them white.
Nurture an indoor garden. Rather than just dotting a few potted plants around, think big and go for an abundant, indoor garden look. Group large houseplants of various sizes and heights together on the floor and use mirrors to max the effect.
Related: The Best Products to Get Your Small Garden Growing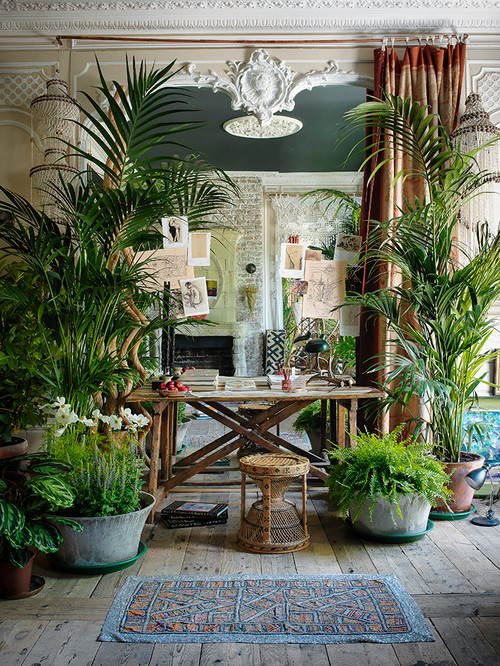 Alternatively, take the more is more approach, but use a single piece of furniture, such as a low bench or shelf, to organize your potted plant display. Tuck this under a sunny window and watch your plants thrive.
Introduce climbers inside. Grow vertical climbing plants indoors, trained up a simple, minimal wire mesh partition. This one flanks stairs, but the idea would work well against a sunny internal wall too.
Or let trailing plants go wild. Turn the indoor climber idea on its head and encourage trailing plants to really go wild. Let lush growers, such as this devil's ivy, hang down from the highest shelf, giving a jungly vibe to a minimal interior.
Make use of internal architecture. The low wall that borders these stairs has been designed to hold potted plants. If constructing something like this is too involved or expensive, look for existing features that could become home to a row of plants or a dedicated long planter, such as a windowsill or mantelpiece.
Grow big in the smallest spaces. This idea works well both inside and out. It's based on the concept that if you use small pieces in a compact space, they will make it look smaller. It's better to play with scale and fill a tiny area with a few big, bold pieces than clutter it with a lot of mini objects that draw attention to the cramped dimensions.
Here, a comfy sofa and lots of bold, skyward-bound bamboo plants beautifully fill this micro balcony, giving it height, greenery and a comfy place to sit.
Design a lush light well. A skinny scrap of a light well alongside this London home has been cleverly greened up with tall Japanese maples. They're vibrant green in summer but turn yellow in the autumn and have striking red branches that contrast with the white walls during winter.
The grasses planted around them turn golden and die down, leaving space for fresh spring bulbs and ferns to herald the beginning of a new year.
Related: Why You Should Try a Japanese Maple in Your Garden
A clever additional detail is the metal wall sculpture, which is lighted from behind. There are also lights inside the containers that throw shadows across the white brick walls at night.